Tritonia sp. [carijoa], an as-yet-undescribed species of nudibranch, is an animal I look for, prize sightings of, follow on its voyages, while diving at Nelson Bay.
In an earlier post about the species, I noted that I'd tried to get a good photo of one for the book Metazoa – this is one of few marine animals who figure significantly in the book that I never managed to adequately photograph, before publication. This is partly because they're so tiny – often around rice-grain scale, occasionally a bit larger.
Diving last month at Fly Point, I found myself thinking that it was perhaps a good thing that I never got a photo, as it made me so concerned to capture them in words. In the case of banded shrimp, whale sharks, and rampaging octopuses, I certainly tried hard to describe them, but the discussion was aided, I knew, by the color photo in the middle. (In some cases I also had Alberto Rava's wonderful drawings.) In case of Tritonia, finishing the book with no photo, I had to somehow capture their profound implausibility as animals, and that morphological gesture they offer towards the soft corals (Carijoa) of Nelson Bay.
Spring and early summer are their time, it seems, and while back at the bay in January, I saw this exemplary Tritonia, wandering in a world of sponges.
Below is an early photo in the sequence.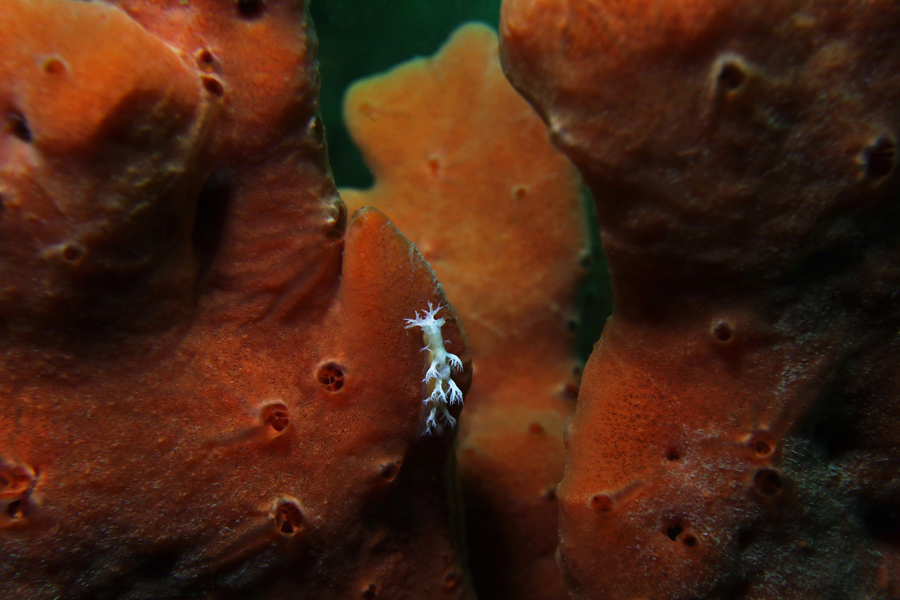 S/he [they are hermaphrodites] turned her head, seeming to register something…
… But was on the edge of a crevasse.
Their eyes are very rudimentary, and olfaction is probably a far more important sense. (You can see a small black eye pretty clearly in the first photo at the top.) One imagines something appealing in the water, sensed from over the gap. She craned across – see the first photo above, which is next in the sequence.
The gulf was considerable: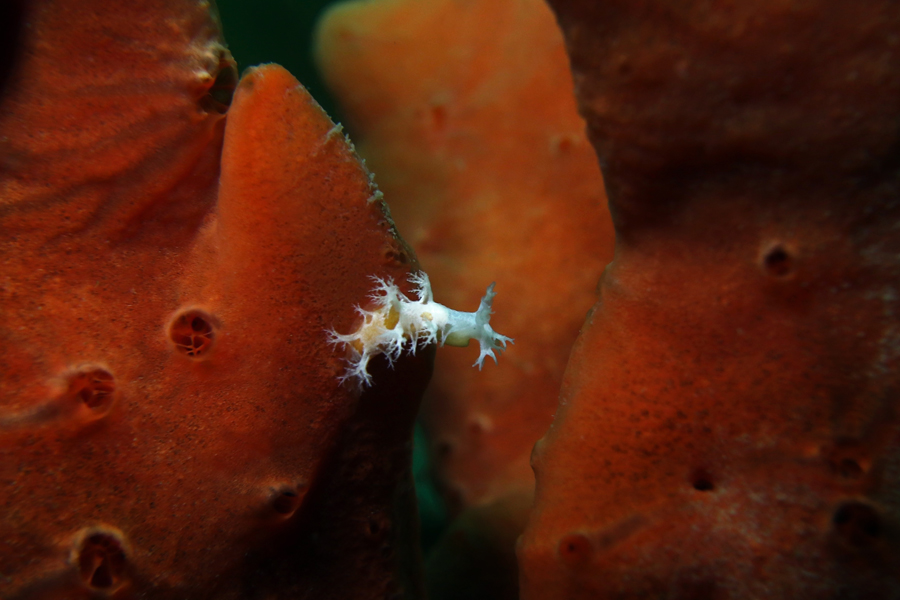 Might it be crossed?
No.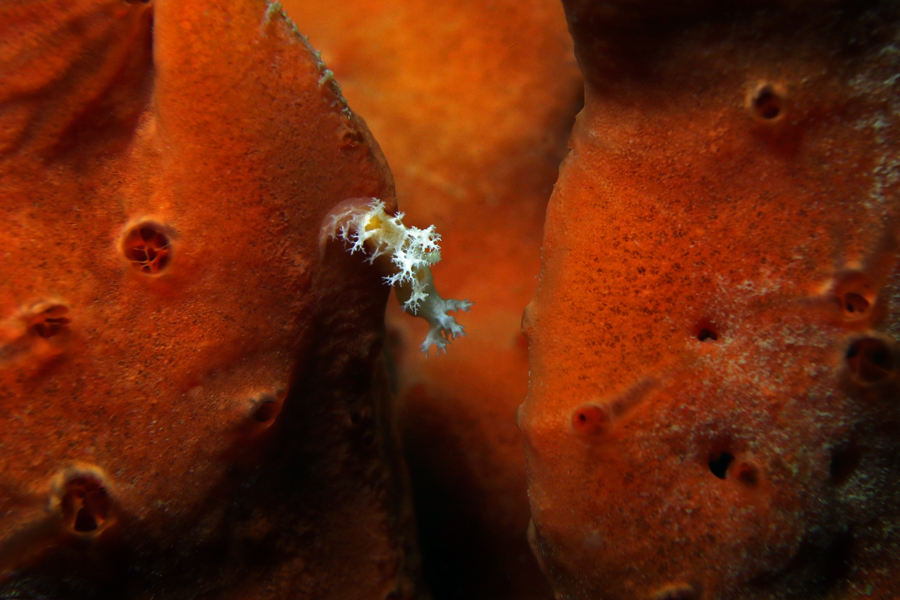 Instead she made her way down…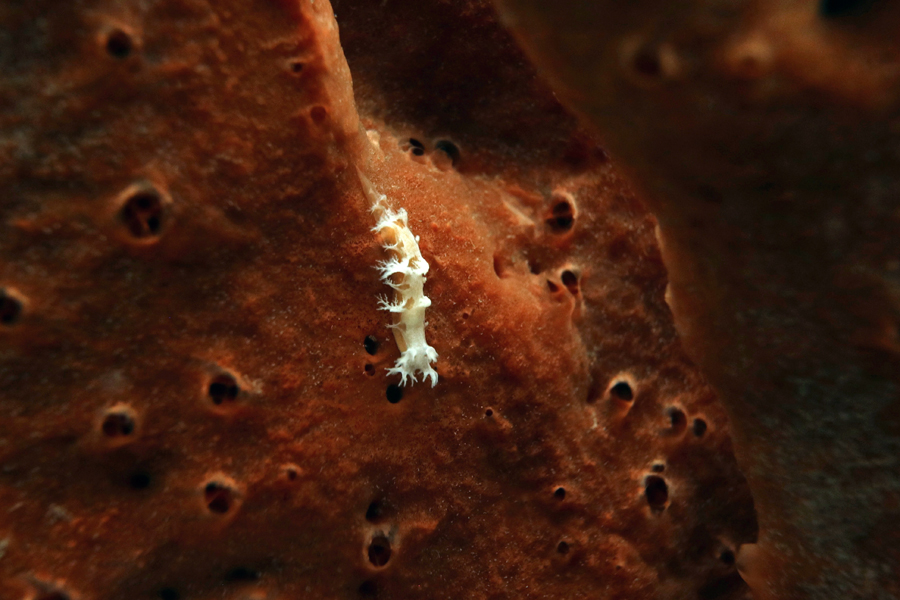 … and, I think, worked across in the same direction, by another route. (I need to look back at some deleted photos to try to check the path).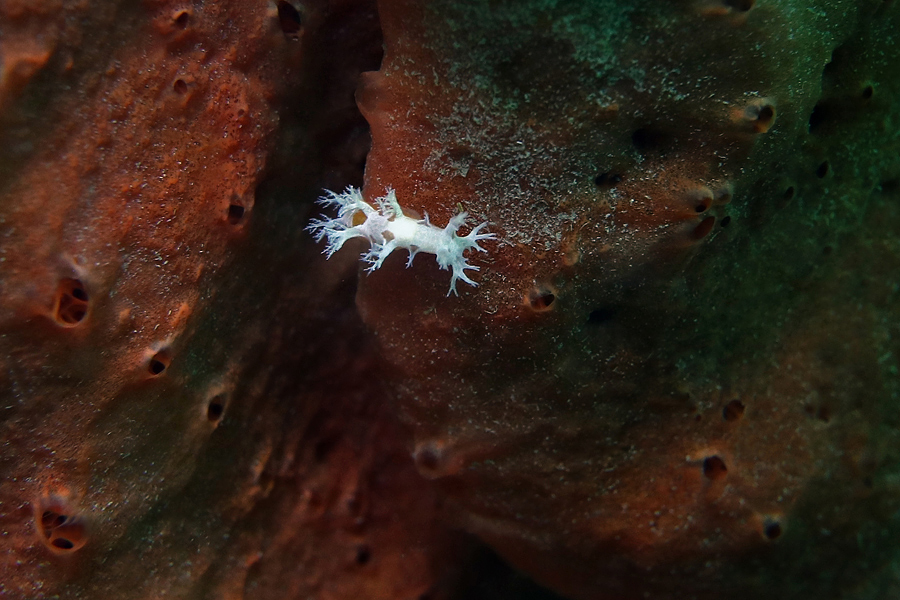 And then, as always with Tritonia, onwards.
________________