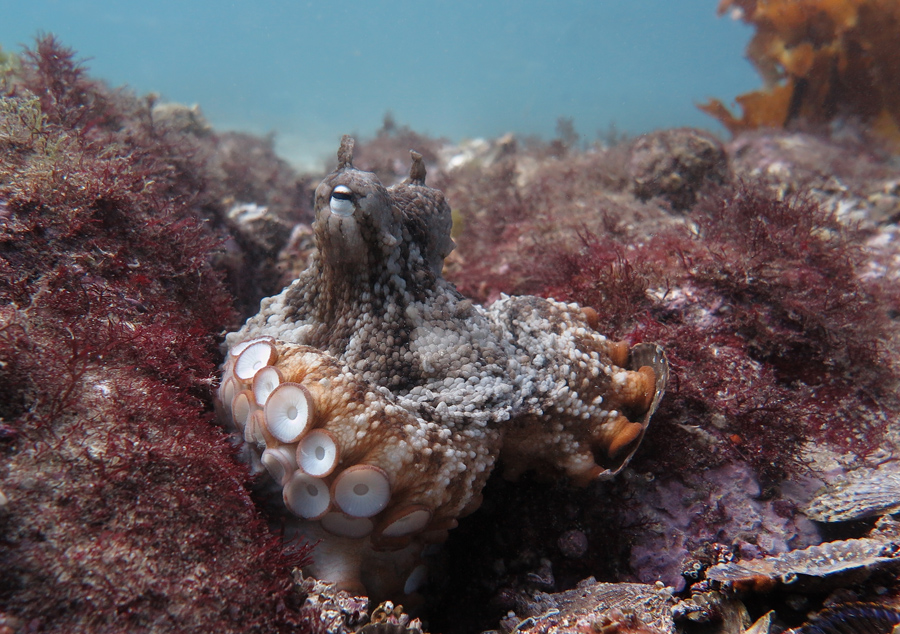 About eight years ago now, my friend Matt Lawrence discovered the site we call "Octopolis," and since then it's been an important part of my underwater explorations and a regular feature on this website. Octopolis, as the name suggests, is notable for its high density of octopuses – there can be up to 16 present in a small area, though more often it's 5-6 or so. The occupied area is roughly centered on what looks like an old human-made object, perhaps dropped off a boat many years ago. This now-encrusted object, about a foot in diameter, provides a good den in a difficult environment for a couple of octopuses, given the silty sand of the bay and the abundance of predators.
Most of the octopuses at Octopolis live some distance from that object, on a bed of scallop shells. We think the initial object "seeded" the site by triggering a process of ecosystem engineering, in which octopuses living there bring in scallops whose shells provide den material for more octopuses, who bring in more scallops in turn…. Though most of the octopuses at Octopolis live on the shell bed, the role of that introduced object in initially altering a difficult environment always made the status of Octopolis slightly unclear.
But now we have a second site.
Last week a new paper appeared, describing an additional high-density site in the same rough area as the first. This site was discovered by chance by some friends, late last year. Clearly it needs an appropriate name, and we have settled on Octlantis.

This is another small area in which about a dozen octopuses can be present, many in dens just a foot or so away from each other – easily within arm's reach. Like Octopolis, the crucial advantage it has over its surrounding is a probably its abundance of dens. Also as at Octopolis, thousands of scallop shells, probably left by octopuses themselves, provide building materials that make those dens possible. But an important feature of Octlantis is the fact that it was apparently not seeded by a human-made object. The site is centered on a small clump of exposed rocks. So Octlantis is entirely "natural" in its origins (though extensively octo-engineered since then – the term "natural" does not work too well in this context).
A version of the next photo appears as one of the figures in the article. Here two octopuses have set up on the side of one of Octlantis' rocks. One has commandeered a beer bottle.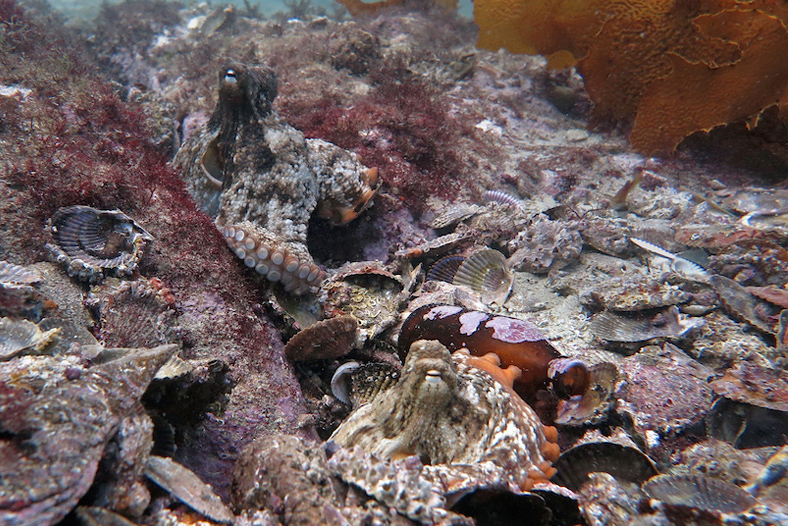 We've already seen a number of matings, fights, and other interesting behaviors at Octlantis. The paper includes some wild screenshots of evictions and conflicts. Here is a version of one (please excuse the weird colors).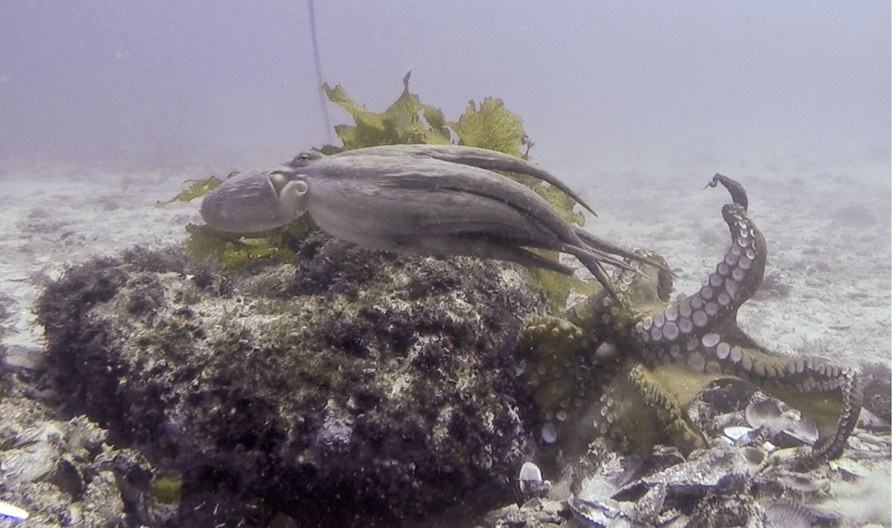 Like Octopolis, Octlantis is full of other kinds of animal life as well. Once again we see the site frequented by large Wobbegongs (carpet sharks). This last photo shows one cruising ominously in.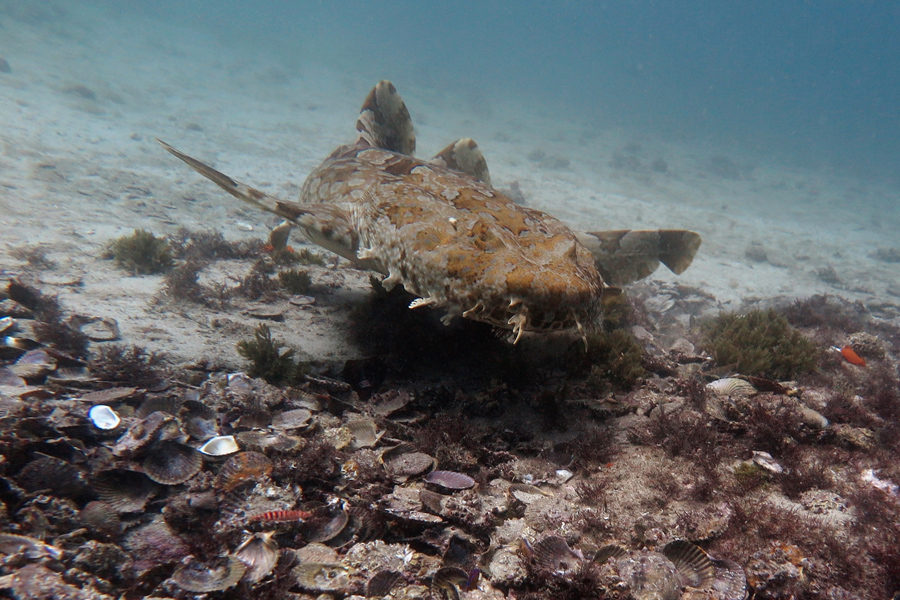 David Scheel is first author on the paper once again. Along with Matt and myself, the authors include Stephanie Chancellor of UIC, Martin Hing, and Stefan Linquist. The paper is not currently "open access"; email me if you would like a copy.
** Update: there is a short news article about the site today in Science.
_____________
Notes:
The paper is: "A Second Site Occupied by Octopus tetricus at High Densities, With Notes on Their Ecology and Behavior," (D. Scheel, S. Chancellor, M. Hing, M. Lawrence, S. Linquist, P. Godfrey-Smith), Marine and Freshwater Behavior and Physiology, 2017, http://dx.doi.org/10.1080/10236244.2017.1369851
Thanks to Booderee National Park for permission to do this work.
Today's unimaginably good nudibranch shot was taken by Oscar Montferrer.