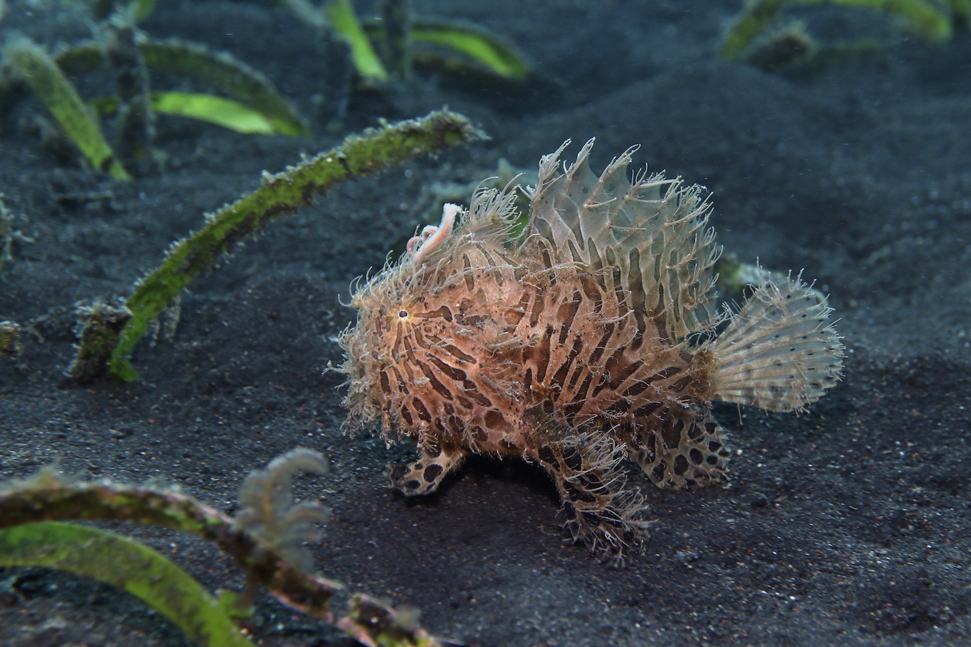 Lembeh Strait is in Indonesia, a narrow straight between a tiny island (Lembeh) and the large elongated isle of Sulawesi. The strait has an unusual ecosystem. It has been fished-out almost completely, but not otherwise destroyed. With the absence of large fish along with tropical waters and good currents, the strait has become a haven for the small and strange, especially invertebrates but also frogfish, pipefish and others. It is the home of spectacular octopuses and nudibranchs. On the terrestrial side, it has a mix of small villages, an active port with iron beasts all over it, and dive resorts tucked into various corners.
I spent some dive days there in March. My guide for all the dives was Jim Ris Mamuko of Kungkungan Bay Resort; Jim spotted many of the animals shown here. When I first showed up, I was asked if there were particular things I wanted to see. I mentioned crabs and shrimp, along with the famous molluscs. The strait outstripped all my crustacean expectations.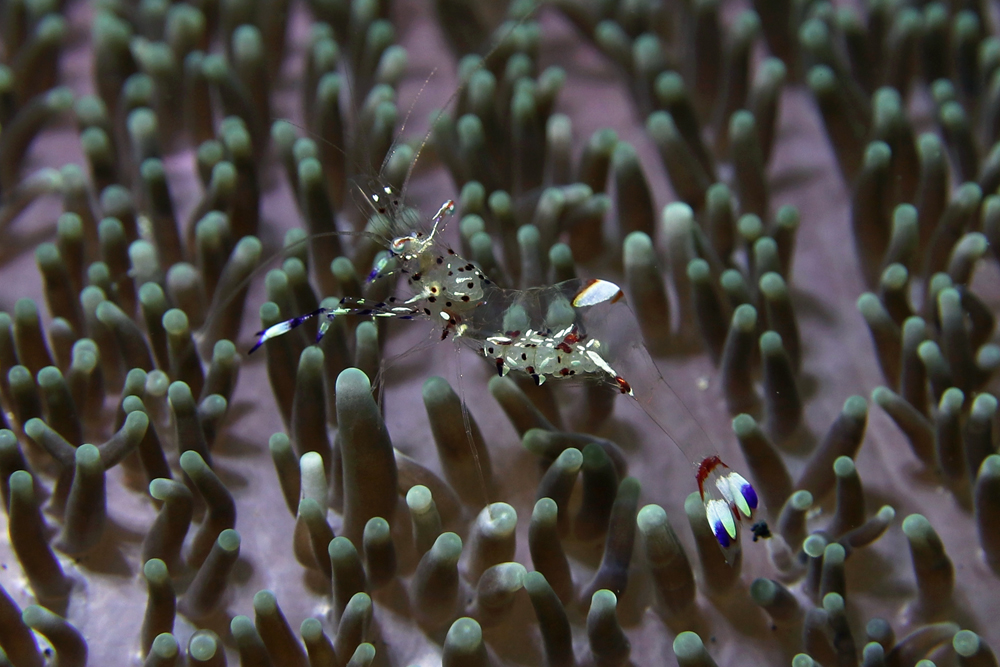 I became absorbed by commensal anemone shrimp. They are tiny, almost transparent, are seen in various species, and spend their time clambering over and buzzing round anemones and corals. The one above is Ancylomenes holthuisi. Here is another of the same species in an even more ornate setting.
I had planned to cover all the different Lembeh animals in one post on this site, but today I realized I should spread them across at least three. This post will all be shrimp, except for the distinguished fish at the top. That is a striated frogfish, Antennarius striatus. Not shown in the photo is what was just behind her, a line of photographers. Lembeh has become a destination for photographic obsessives from all over the world – my own camera gear was dwarfed by far more elaborate machines. Jim and I came across that frogfish and she looked like a movie star making her way down the red carpet with press photographers on each side. Two enormous video rigs, I assume wielded by professionals, were mixed in.
As the frogfish moved along the line, I parked myself a little distance away, where she seemed to be heading. Eventually she ambled up to me and I took the photo above.
Chasing shrimp, it was easy for Jim and I to usually be on our own (and Lembeh is not a chronically crowded place). Here is another shimp species – I am not sure of this one. The anemone tentacles give a sense of the scale.
And here is a species that lives with starfish, rather than anemones and corals.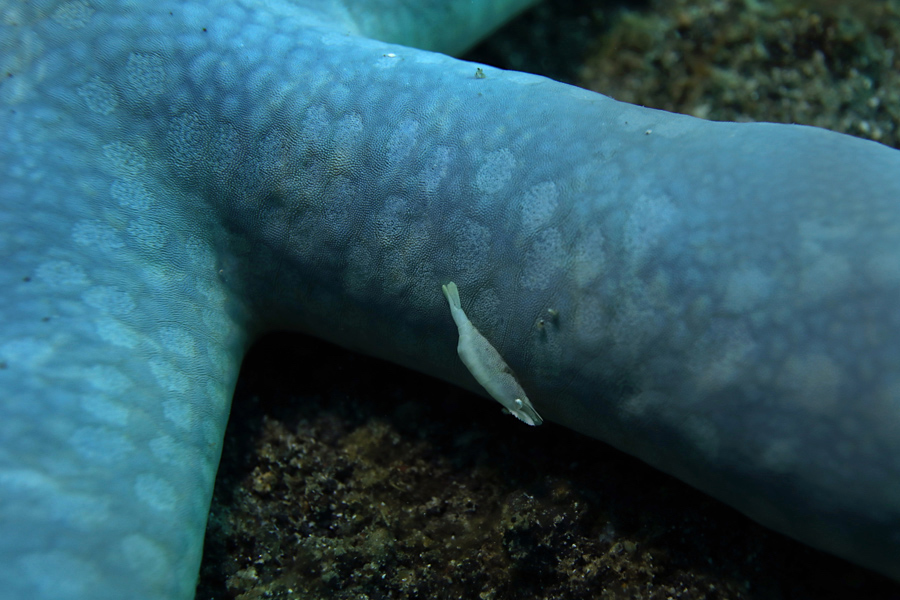 (I think this might be Zenopontonia soror. The species seems to have a lot of color variation; this website is good.)
One more, for me a climax, seen on the last dive on the last day: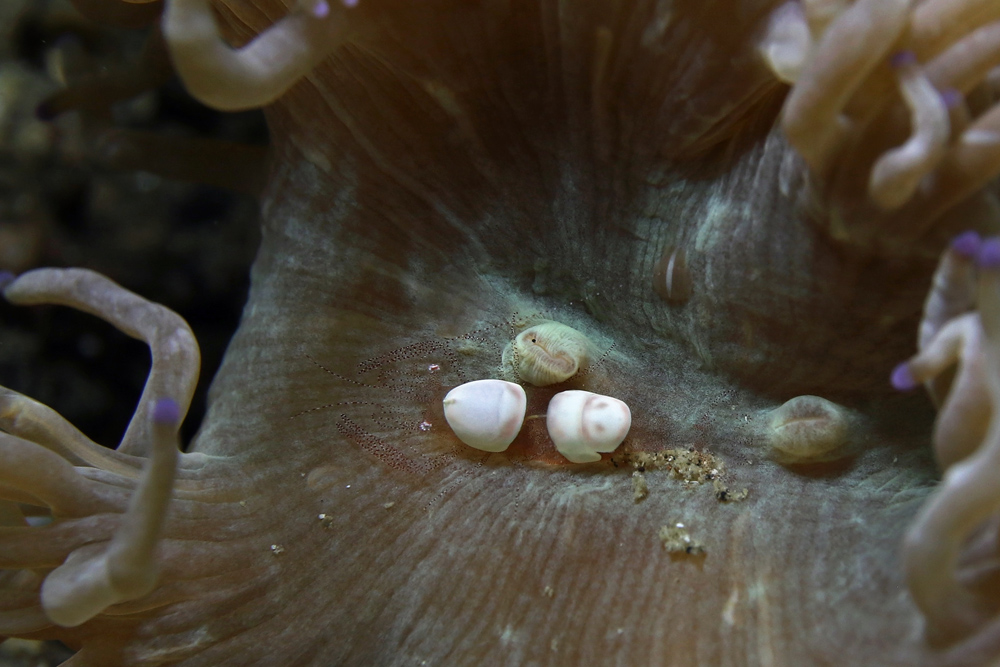 This, I think, is an Egg Shell Shrimp (Hamopontonia fungicola). The two white shapes are markings on its body. There are two eyes visible to the left of them, and rows of tiny red dots extending out on claws, tail, and so on. Most of the body is perfectly, magically, transparent. Here is a link to a close-up from the same photo, showing just the animal itself, still almost impossible to see.
__________________________________
Notes:
1. I do recommend Kungkungan Bay Resort.
2. Laura Bagge works on these animals and their transparency. (Thanks to Jessie McCormack for the tip.) Science had a short article about some of her work, and the full paper (which made the cover of JEB) is here. When the shrimp are exercising and under stress (eg., trying to escape someone), they become less transparent.
3. These websites about the local animals are pretty good:
http://murexdive.com/crustaceans-of-north-sulawesi-part-three/ (and part two, etc.).
But most of my IDs came from A.S. Ryanskiy's very helpful crustacean book.
4. A good Opisthobranch site for the area is here (though, as I say, nudis will come later…).