All the photos in this post (except for one) were taken yesterday in Sydney, when I came across a large Giant Cuttlefish, over two feet long, under a dark ledge. Numbers of these animals close to shore are increasing now, as the mating season begins. They spend long periods under overhangs and in crevices, sometimes coming out to roam in the late afternoon. Many of them are quiet in these dens, with colors turning over in an almost imperceptible chromatic rumble. This one, though, was quick and restless, his arms in continual motion, making a series of complicated gestures – antennae, walking sticks, dracula fangs, lantern stripes.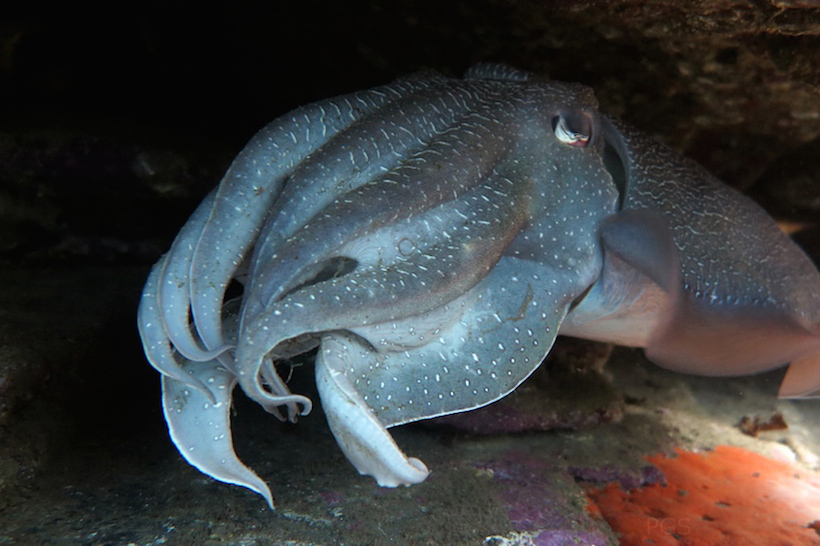 This wasn't only due to my presence – I was able to spy on him also from a little way away, and the gestures didn't stop. He was mostly a muted silvery-grey, but occasionally he blasted out some other colors. Here's a 'yellow flare,' turned on in less than a second….
… and turned off, seconds later, with a wink: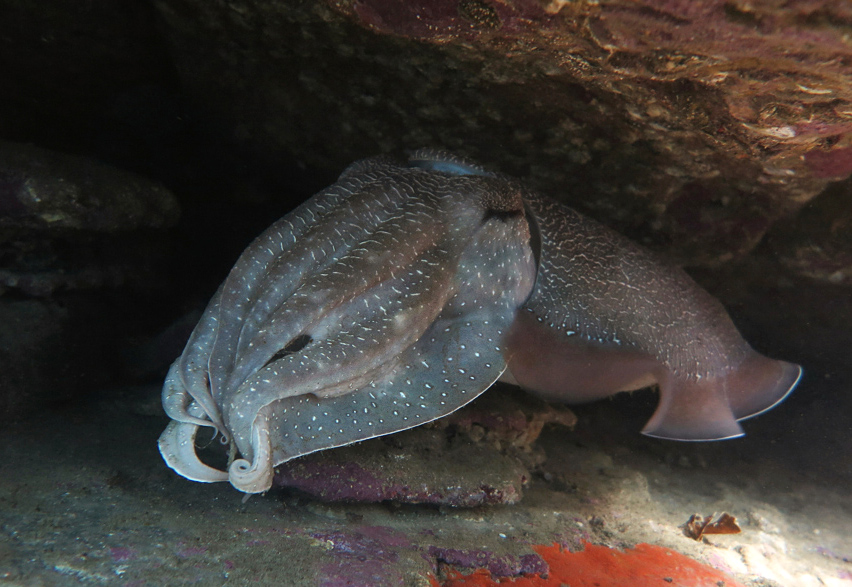 The arms of an octopus are packed with neurons, and every sucker contains sensors of several different kinds. I don't know to what extent this is also true of cuttlefish. Their arms, more compact than those of an octopus, don't seem to engage in as much exploratory wandering around the environment, but in some animals, like this one, the tips of the arms are never at rest; they roam around each other, forming and re-forming shapes and tangles.
Do they ever end up with their arms in a knot? I just once saw a cuttlefish, another restless one, do something like that:
He tied the knot, then untied it, and wandered into an entirely different pose.
One more from yesterday:
_______________
Notes: There was 8 seconds between the yellow flare photo and the wink, with its entirely different colors.
Some good footage of a 'dumbo octopus,' a rare deep-sea species, has recently been posted here.