67. Each portion of matter may be conceived as like a garden full of plants and like a pond full of fishes. But each branch of every plant, each member of every animal, each drop of its liquid parts is also some such garden or pond.

69. Thus there is nothing fallow, nothing sterile, nothing dead in the universe, no chaos, no confusion save in appearance,…

G.W. Leibniz, Monadology, 1714
The photograph is of an Octocoral, a soft coral magnified, taken last week in Sydney. This winter in the water I've found myself fixated on the relations between scales, on micro-structure and macro-structure, and the smallest animals I can see.
A philosopher with unusual views about the relations between micro and macro was G.W. Leibniz, one of the central "rationalist" thinkers of the 17th and 18th centuries. As in the quote above, Leibniz said that all of matter is comprised of tiny animate parts, a hierarchy of organisms within organisms, stretching down to the infinitely small. I was reminded of Leibniz by the scene below. Here's another coral-like organism, a Zoanthid colony: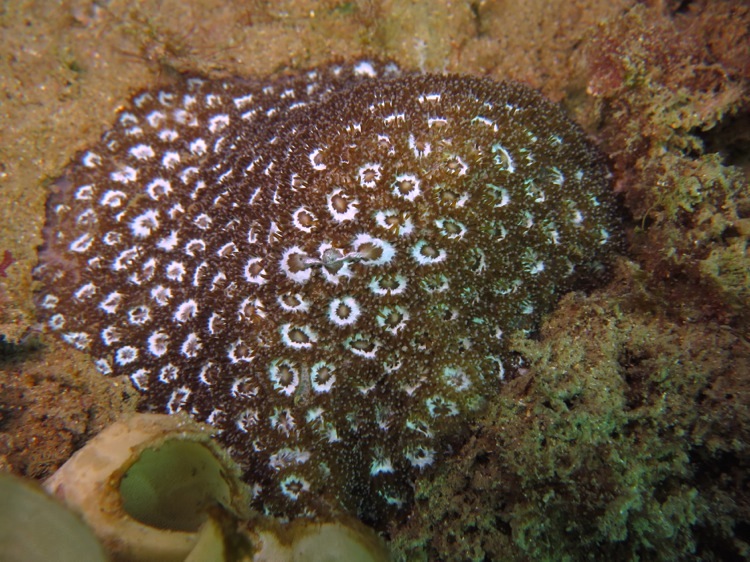 The colony, as also in the case of the Octocorals, is made up of many semi-autonomous animals, polyps. They look like this, with a cluster of tentacles surrounding a mouth: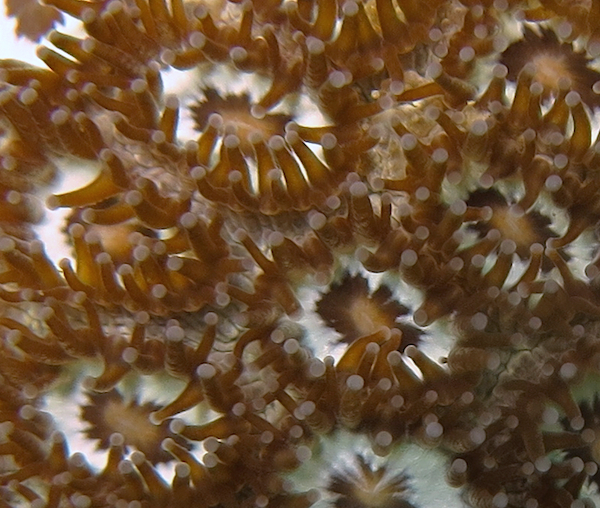 In the water I saw the tiny silver stripe across part of the colony in the center of the longer-range Zoanthid photo above, but had no idea what it was. I made sure I took some shots that covered the striped area, so I could zoom in and look more closely at it on land. Here's what I saw: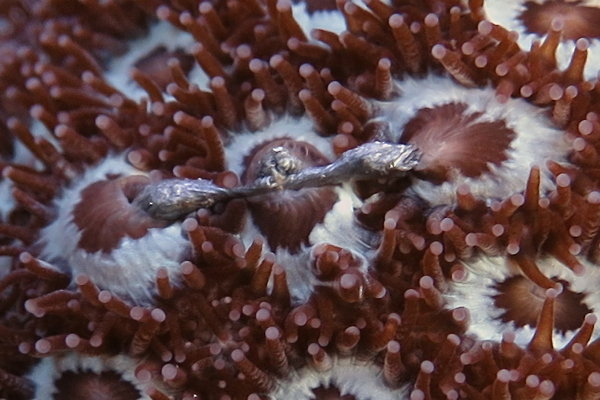 The stripe seems to be the remains of a fish, a tiny fish, being slowly consumed by the colony of Zoanthids. If you look closely you can see what look like a pair of jaws remaining on the far right. There are indeed invisible fish around us, and organisms within organisms, as in the zoanthid, even if Leibniz's version of this view was fanciful and the fates of the fishes are not to be envied.
Why did Leibniz believe a view like this? Philosophers have usually seen Leibniz as someone who reached all his conclusions, including these very strange ones, by pure reasoning about how things have to be. Leibniz did, however, also live around the time of the first published microscopic observations of the world, by Robert Hooke in England and Antonie van Leeuwenhoek in Holland (whose images were published from his letters to the Royal Society). For someone struggling, as I am, for the first time with magnifying lenses under water, it was interesting to learn that a new interpretation of Leibniz's thought has been developed, by Justin Smith, which emphasizes the influence of these early microscopic observations, especially those of Leeuwenhoek, who Leibniz knew and visited. Smith thinks that Leibniz's "worlds-within-worlds doctrine… was inspired by microscopy from the very beginning." My former colleague Jeff McDonough has written a review of Smith's book which is more cautious on this point; McDonough thinks that even if microscopes played some role, Leibniz was committed to general positions that had the peculiar idea of endless plants and fishes as a natural conclusion. How is that possible? Well, Leibniz thought that he could show that matter must be divided infinitely into parts, and also that the basic entities in the world must be organic and unified, not mere chunks of dead stuff. So all matter comprises tiny organism-like parts. Perhaps the microscope then added, for Leibniz, the details of their form, a form of ponds and plants and fishes.
_________
Thanks to Derek Skillings for help with zoanthid biology.
The final image is from a letter from Leeuwenhoek to the Royal Society of London, 25 December 1702.